Jan 5, 2016
We started Grab Life to do two things: to help spread awareness about testicular cancer and to help the people and organizations that are battling cancer. Thanks to Modern Woodmen financial of Tallahassee FL. for helping us with raising funds for a local lady currently undergoing chemo treatments.
Dec. 8
FDA approves cooling cap to help reduce hair loss for women undergoing chemo. The FDA announced that the cooling cap, which by cooling the scalp reduces blood flow near hair follicles, has preformed well enough in clinical trials to show a decrease in the amount of hair loss for women undergoing chemo treatment for breast cancer. For more information on this:
http://www.fda.gov/NewsEvents/Newsroom/PressAnnouncements/ucm476216.htm

The FDA says this cap may not work with all types of chemo so if you know someone who is going through chemo and might be interested have them check with their oncologist.
Nov. 17
Excited that we were able to send out our first round of checks to some organizations that provide free services to people looking for answers and support in their fight against terrible disease and to a few individuals who are battling cancer now. We hope to be able to increase the amounts we give and to make young men aware of the signs of testicular cancer with hopes that improved awareness will lead to better outcomes. The checks below were sent to companies that provide great free services if you or someone you know is facing cancer now need information we would highly recommend them. To respect the privacy of the individuals we have not posted copies of checks sent to them.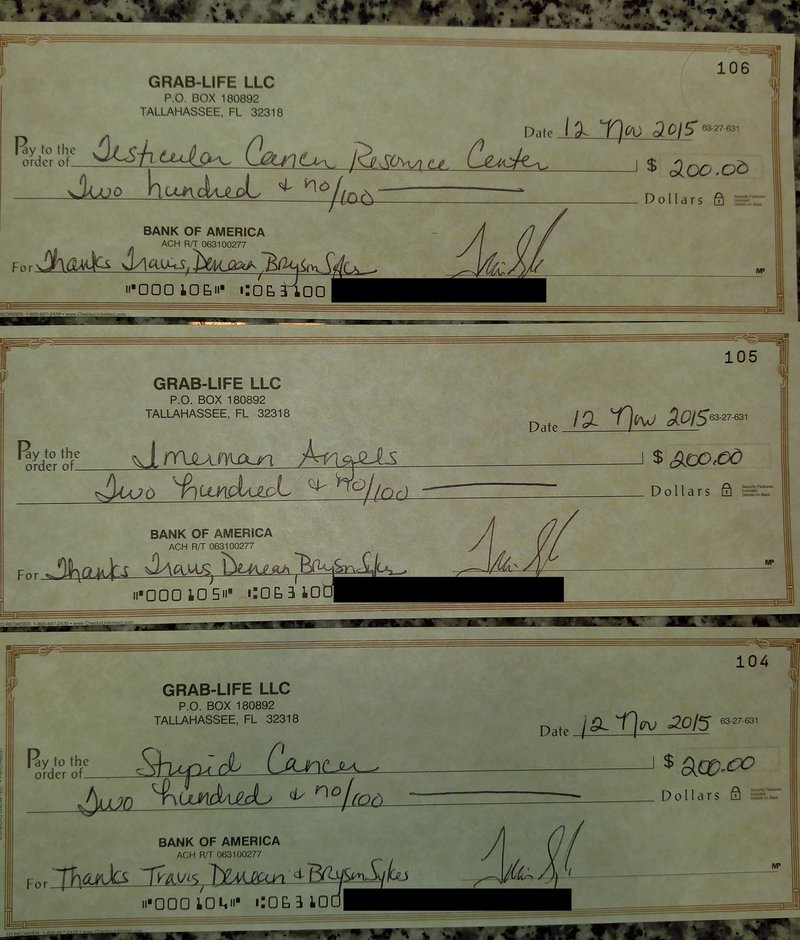 Oct. 27
Great news this month!! Our son, Bryson, was diagnosed in October 2014 and after surgery and chemo he is cancer free one year later. Feel blessed each time tumor markers come back clear. Please continue to keep him and others who are fighting this battle in your prayers.

This is our first blog post!!! We are a new company with a focus on encouraging people to live life to the fullest to truly GRAB LIFE! We will be posting stories about people who are in the process of beating or have beaten cancer here. We also will have stories of people pursing their passions whether it be marathons, tennis tournaments, baseball or any other passion they have. We will be putting new design ideas and coming soon products as well as asking for product ideas you may be interested in. So please bookmark us and check back often as we will be posting stories that hopefully will inform and brighten your day.